Get more essential content
We'd love to send you occasional email updates with content that is relevant and helpful.
Some examples of this content include:
Case studies

Articles from our blog

Other helpful resources like eBooks or whitepapers.
We'd also like to keep you informed about special events or promotions.
You can unsubscribe at any time.
How To Spark Consumer Engagement
Sparking Consumer Engagement
Consumers will grant your brand attention when you offer them an extraordinary visual experience that sparks engagement, emotions and creates an impulse to react and buy.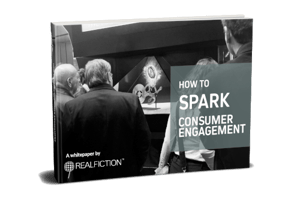 In this whitepaper we dive into the new ground rules for adding technology to the buying journey, dealing with scare attention spans and taking advantage of the way the human brain works.

Get insights on:
Responding appropriately to changes in advertising and retail

Dealing with the new and self-reliant customer

Reaching your audience and making an impact